Alumni
A Lifelong Commitment
Membership in Sigma Chi is a lifelong commitment. Through formal and informal programs, our alumni have many opportunities to remain engaged with the Chapter and Fraternity. Their support is critical to the long-term success of both our undergraduate chapter as a whole and our undergraduate brothers individually.
Alumni Engagement
There are several ways for our alumni to remain engaged with the chapter and Fraternity. For more information about any of these opportunities, please fill out the Alumni Inquiry form below.
Donate
---
Alumni donations to the Sigma Chi Foundation support the Fraternity's leadership initiatives and educational scholarship needs of its members.
Mentor
---
Alumni mentors provide meaningful direction and guidance to undergraduate brothers and can get them on a path to success after graduation.
Volunteer
---
Alumni volunteers work directly with chapter leaders and serve as liaisons between the chapter and various community interests.
Facilitate
---
Alumni facilitate many of the Fraternity's leadership development programs and provide wisdom to undergraduate brothers.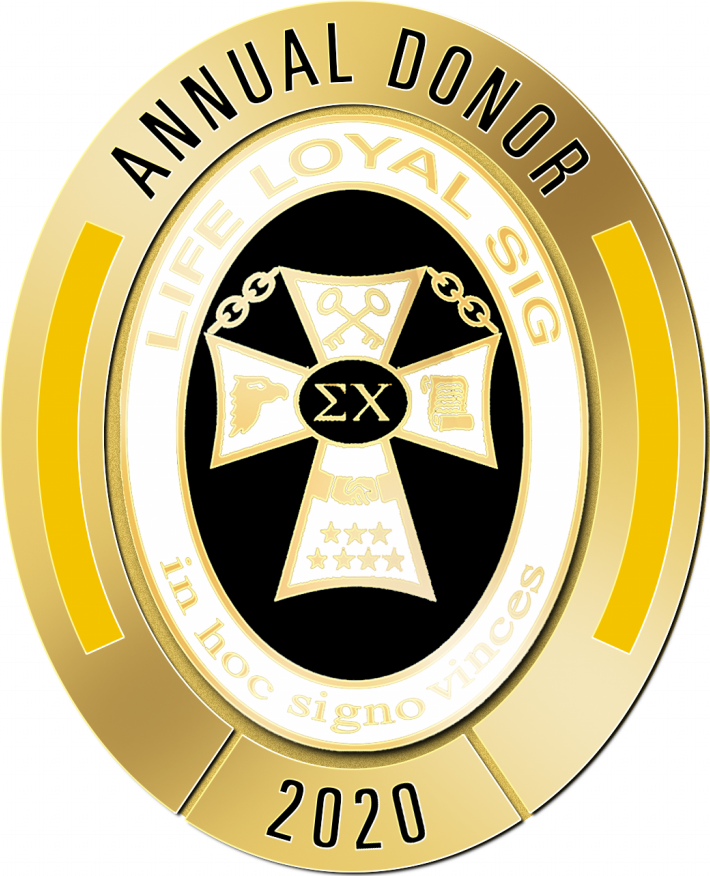 Life Loyal Sigs
Life Loyal Sigs are part of a brotherhood of young and old alumni who continue to reap the benefits of Sigma Chi membership long after their college years are over. Life Loyal Sigs exemplify the prosperity, achievement, idealism and deep sense of personal responsibility that we all wish for ourselves and our families. A Life Loyal membership is the best way for members to take part in the enduring spirit and heritage of Sigma Chi.
Delta Phi Chapter recognizes the 176 brothers from its ranks who have chosen to be Life Loyal.
Alumni Awards
Sigma Chi Fraternity recognizes individuals and groups that work in service to the organization, its members and the communities to which Sigma Chis belong.
Order of Constantine
Each year, the Order of Constantine recognizes a group of Sigma Chi brothers for their commitment, dedication and service to the Fraternity. Induction into the Order of Constantine is considered to be the highest honor that the Sigma Chi Fraternity bestows upon one of its members. The honor of being named an Order of Constantine Sig has been conferred on just over 720 brothers since the Order's inception at the 47th Grand Chapter in 1948. Four Delta Phi Sigs have received this award.
Honorees
Jack Fabulich '51
Awarded 1992
C. Mark Smith '61
Awarded 1996
Dan Mathewson '86
Awarded 2009
Thomas "Tom" Baker '54
Awarded 2010
Significant Sigs
The Significant Sig Award recognizes those alumni members whose exemplary achievements in their fields of endeavor have brought great honor and prestige to the name of Sigma Chi. Sigma Chi Fraternity has recognized more than 1,900 brothers since the award's introduction at the 1935 Grand Chapter. Only living members of the Fraternity are considered for the award. Four Delta Phi Sigs have received this award.
Honorees
Edward Amet '65
Awarded 2013
Larry Gill '60
Awarded 2017
C. Mark Smith '61
Awarded 2020
James Mullinax '90
Awarded 2020
Sigma Chi Foundation Associate Director of Development – Pacific Northwest Jeff Burnside (Washington State 1980) presents the Significant Sig award to C. Mark Smith '61 at a reception on Saturday, July 24, 2021, in Tacoma, Washington. (Travis Dos Santos-Tam)
Sigma Chi Foundation President and CEO Ashley Woods (East Tennessee State 2000) presents the Significant Sig award to James Mullinax '90 at the Sigma Chi Congressional Reception in Washington, D.C. in November 2021. (Jeff Burnside)
Alumni Inquiry
For more information about alumni engagement opportunities, please fill out and submit the form below.